When it comes to maintaining a healthy smile, dental crowns are a popular solution for restoring damaged or discoloured teeth. They look and function like natural teeth.
Not only do they provide an aesthetically pleasing appearance, but they also offer strength and durability. Crowns on the front teeth can last longer as they don't go through the same chewing pressure as your back teeth or molars.
Dental crowns are an excellent choice for enhancing your smile and improving dental health. With a dental exam, your dentist can recommend the right restorative dental treatment to suit your needs.
What Are Dental Crowns?
Dental crowns are custom-made caps placed over damaged or weakened teeth. They can resemble your natural teeth in shape, size, and colour to help you achieve a seamless and natural-looking smile.
Crowns come in various materials, such as porcelain, ceramic, metal, or a combination of materials. Your dentist will recommend a specific material based on the following factors:
Location of tooth
How much of the tooth will show
Position of your gum tissue
The function of the tooth
How much natural tooth is remaining
Colour of the surrounding teeth
Crowns can be a solution for:
A damaged or cracked tooth
A weak tooth
A severely worn-down tooth
Cosmetic problems such as a discoloured or mishappening tooth
Protecting a tooth with a large filling
Covering a dental implant
Covering a root canal
A Dental Crown Procedure
A dental crown procedure can include a 1-day process or require 2 visits to your dentist.
Same-Day Procedure
This procedure is done start to finish within a 2 hour (or less) appointment. Same-day crowns are done in-office with our modern CAD/CAM technology.
Although the appointment time is for 2 hours, there is a 35-45 minute window of rest and relaxation while the crown(s) are being designed, milled, stained and glazed. similar to the 2 day procedure, but there is no temporary crown, no waiting days or weeks for your crown, and no being frozen twice!
Same-day crown treatment includes the following steps:
Your dentist takes a digital scan of your mouth
From the scan, they can create the crown
When the crown is ready, they can bond it on your tooth
Multi-Day Procedure
This procedure involves the following steps over 2 appointments:
Examination of the tooth, which may include X-rays
The dentist prepares the tooth that needs a crown by filing and removing part of the outer layer
They will then take a digital scan of the trimmed tooth and surrounding teeth
A temporary crown protects the tooth until the crown is ready
After 5-7 business days, your dentist inserts and bonds the permanent crown on your tooth
Dental Crowns on Front Teeth
Dental crowns on front teeth are usually done for restorative purposes, including:
Severe damage, such as a large crack
Extensively decayed tooth
A broken tooth
After a root canal procedure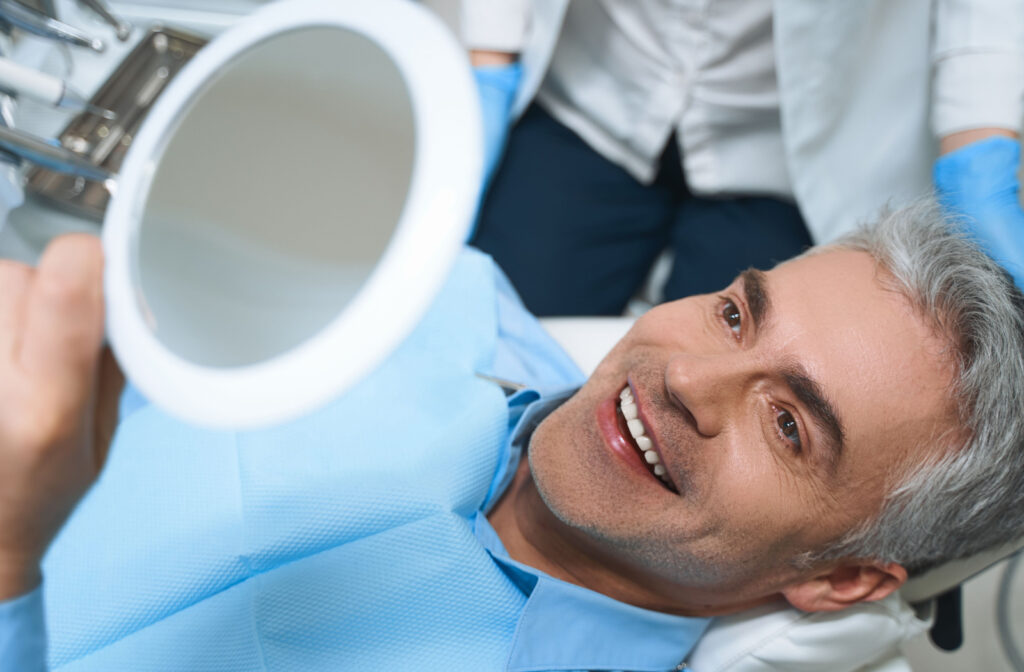 How Strong Are Dental Crowns on Front Teeth?
Dental crowns are strong and can withstand the daily pressures of biting and chewing.
However, front teeth undergo less pressure, and porcelain and ceramic crowns can last 10 years or longer with proper care and maintenance. But they aren't natural teeth. For this reason, take extra care not to damage them.
Porcelain and ceramic crowns also offer a more natural colour to blend in with your surrounding teeth. Additionally, dental crowns are custom-made to fit snugly over your existing tooth, providing added support and strength.
They can protect and reinforce a weakened tooth, adding a layer of protection, and reducing the risk of further damage or decay, thus reducing the risk of tooth loss and the need for more extensive dental procedures later.
Caring for Dental Crowns
Caring for your front tooth crown like you would your natural teeth can help them retain their strength and last longer. Here are some tips to keep in mind:
Practice good oral hygiene by brushing your teeth twice daily with a soft-bristled toothbrush and fluoride toothpaste. Floss daily to remove plaque and food particles between your teeth and around the crown.
Avoid excessive force. While dental crowns are durable, they're not indestructible.
Avoid biting down on hard objects such as ice or fingernails, as this may damage the crown.
Don't use your front teeth to open, tear, or cut items.
Wear a nightguard if you grind or clench your teeth to protect your crown and surrounding teeth.
Schedule regular dental checkups with your dentist to monitor your front teeth crowns, ensure they function well, and continue looking like your natural teeth.
Regular cleanings at your dentist can keep your crowns and natural teeth in optimal health.
Restore Your Smile & Tooth Function with Dental Crowns
Dental crowns offer strength, durability, and a natural appearance to help restore damaged or discoloured teeth. With proper care and maintenance, your dental crowns can last many years, allowing you to enjoy a beautiful and functional smile for longer.
If you're considering dental crowns, book an appointment with the dentists at Elevate Dental to determine the best treatment plan for your specific needs.