When you need to take time off from work or school to prioritize your oral health, knowing how long you can expect to be in the dentist's chair is helpful. A dentist appointment typically lasts between 1 to 2 hours, depending on the dental procedure and your overall oral health.Routine cleanings, dental procedures, and cosmetic dentistry can vary widely in length. For instance, if you're getting a filling, your appointment may be quick, while a root canal can take up to 90 minutes. Elevate Dental's team works together to keep your appointments efficient so you can get right back to your day.
Dental Cleanings & Exams
You should schedule cleanings with your dental hygienist every 3 to 6 months to maintain healthy teeth and gums. Typically, a routine cleaning includes:
Physical exam: A hygienist uses a small mirror to assess the teeth and soft tissues of the mouth for problems before cleaning.
Scaling: The removal of plaque and tartar above and below the gum line and between your teeth can be the longest step of a dental cleaning. Using a water flosser and brushing and flossing twice a day can help shorten this step.
Polishing: A hygienist will use a high-powered brush and gritty textured paste to polish the teeth for a deep clean.
Flossing: Professional flossing can benefit even the hard-to-reach molars and lets your hygienist assess your gums for sensitivity.
Fluoride: Once a year, you'll receive a fluoride treatment to protect your teeth from bacteria that can lead to cavities.
During your cleaning, your dental team may also take updated X-rays to look for cavities or structural problems with your teeth. Your dentist will then assess your teeth and use a periodontal probe to find problem spots in your teeth or gums.
You may need to make subsequent appointments for cavity fillings or other procedures, which our dental team will explain during your routine exam.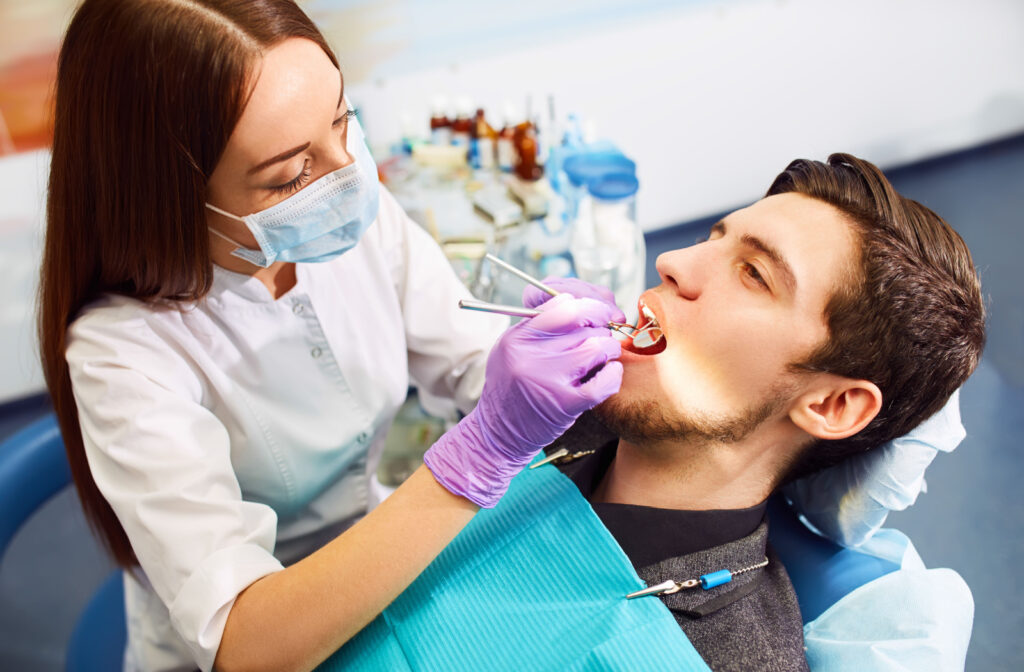 Cavity Fillings
Almost everyone develops at least one cavity in their life. Cavities are essentially a hole in your tooth and one of the most common dental health problems. Typically, cavities can be kept at bay by brushing and flossing regularly, clearing away the tartar and plaque that leads to tooth decay.
A tiny cavity may go unnoticed and only appear on an X-ray, but larger cavities can cause symptoms like:
Tooth pain and sensitivity
Discolouration on the tooth
A visible hole in the tooth
Inflamed gums
A simple cavity filling can take as little as 20 minutes to complete. However, depending on the number of cavities and the filling material, you may be in the dentist's chair for close to an hour.
Root Canals
When the inside layer of your tooth, the pulp, is exposed to a crack, inflammation and infection can enter the tooth and cause damage below the tooth's surface. A root canal can be performed to clean out the damage and infection, saving the natural tooth.
Root canals can take anywhere from one to multiple hours.
Following the procedure, the dental team reseals the tooth to prevent bacteria from re-entering the tooth, causing another infection.
Restorative Dentistry
Restorative dentistry aims to improve mouth health and function by repairing or replacing damaged and missing teeth. Serious tooth problems can affect your ability to chew or speak and impact the appearance of your face.
Common types of dental restorations include:
Crowns
Bridges
Dental implants
Dentures
Typically, restorative dentistry procedures require several appointments. For instance, after a mould of your teeth is taken at one appointment, you'll be fitted for the appliance at a follow-up visit. Your dental visits will vary in length depending on whether you're getting a single dental crown, a bridge, or an implant.
Depending on the complexity of your case, your appointments may take longer. Damaged teeth due to chemical erosion, gastroesophageal reflux disease, or bruxism may require complex restorative intervention, taking more frequent, lengthy appointments.
Book Your Dental Cleaning for Preventative Oral Care
Your dental care should focus on quality before speed. At Elevate Dental, we take the time to examine your teeth, listen to your concerns, and offer advice. Schedule your next dental cleaning and exam with Elevate Dental to maintain positive oral health habits and elevate your smile.