Braces have long been a common approach to treating orthodontic problems. But in recent years, an alternative option has become more and more popular—Invisalign and other kinds of clear dental aligners. Instead of metal brackets and wires reshaping your teeth, this approach uses removable clear plastic aligners. But are these aligners, like Invisalign and SureSmile, better than braces?
SureSmile and Invisalign are excellent approaches for minor cosmetic problems, like crooked and gapped teeth, and they're almost entirely invisible. But while braces are more obvious, they're also better suited for a wider range of orthodontic problems.
Before choosing one or the other, you should consult with your dentist to determine which approach is right for your unique needs.
What Is Invisalign?
Invisalign is a type of orthodontic treatment that uses clear, removable aligners to gradually straighten teeth. These aligners are custom-made for each patient, providing a comfortable fit and a discreet look—and they're almost entirely unnoticeable.
Here at Elevate Dental, we use SureSmile for our patients. Like Invisalign, SureSmile offers a virtually invisible way to improve your smile. Similarly to braces, SureSmile gently applies pressure to your teeth and aims to change their shape and location to improve your smile. It's a noninvasive way to correct many orthodontic issues!
How Do Clear Aligners Work?
The treatment begins with a dentist performing a comprehensive digital scan of your mouth. They use the information from these scans to create a series of customized aligners—each of these slightly different.
You'll then wear the first in the series of aligners for some period of time—usually roughly 2 weeks, though this can vary. They'll apply gentle, steady pressure to your teeth, slowly pushing them toward their desired location. After the 2-week period, you'll switch to the next set in line, which applies a slightly different amount of pressure to continue adjusting your teeth.
You should wear these aligners for about 20-22 hours a day or so and take them out to eat and drink. They'll require regular cleaning, though this is quite simple!
By the conclusion of your treatment, your teeth will be properly aligned and adjusted to their optimal position.
Is SureSmile Better than Braces?
SureSmile—and other kinds of clear aligners like Invisalign—can be an excellent approach to cosmetic issues like:
Mild to moderate teeth crowding
Small gaps between teeth
Minor overbite or underbite
Slightly turned or twisted teeth
Uneven tooth spacing
SureSmile is a great way to treat these minor orthodontic issues. However, braces are usually recommended when the issue is more complex. One option isn't better than the other—they're simply effective in different ways.
The Benefits of SureSmile
Suresmile does come ahead in a way, however. When you get your set of SureSmile aligners, you'll be provided with a VPro device.
The VPro is a device shaped similarly to a mouthguard. It uses high-frequency vibrations to stimulate the teeth, gums, and bones. When doing so, it encourages the bones surrounding your teeth to adjust quicker than normal to their new positions, and may even be able to cut down treatment time. It also helps make the overall process more comfortable, making this a massive benefit to trying SureSmile.
It doesn't stop there, though. You'll also gain access to the SureSmile VPro app. This is designed to help:
Track your wear time
Track your progress
Remind you when to switch to your next set of aligners
These all make SureSmile an excellent choice!
The Pros & Cons of Clear Aligners
If you're considering SureSmile—or any other kind of aligner—there are a few things to know. SureSmile aligners offer several advantages:
They're almost invisible, making them a discrete choice.
They're removable, allowing for easier eating and cleaning.
They generally cause less discomfort than traditional braces.
These aligners do need to be worn consistently, and you can't exactly skip a day here or there if you forget. This would make the overall treatment much less effective. And they may not be suitable for more severe orthodontic issues like severe crowding or a major overbite. In those cases, traditional braces may be the better choice.
The Pros & Cons of Traditional Braces
Braces, a much more traditional way to treat orthodontic problems, are still an effective approach. They have significant benefits, including:
The results are much more predictable, and there is no room for error, as the wearer can't remove them.
They're effective at treating a wider range of orthodontic problems.
But along with these benefits, they do have some drawbacks:
Braces can be extremely noticeable.
They can cause discomfort or irritation—especially after being adjusted.
They can make it difficult to eat certain foods while you wear them, as they can get stuck in the small parts.
It can be difficult to properly clean them as you have to clean around the brackets and wires.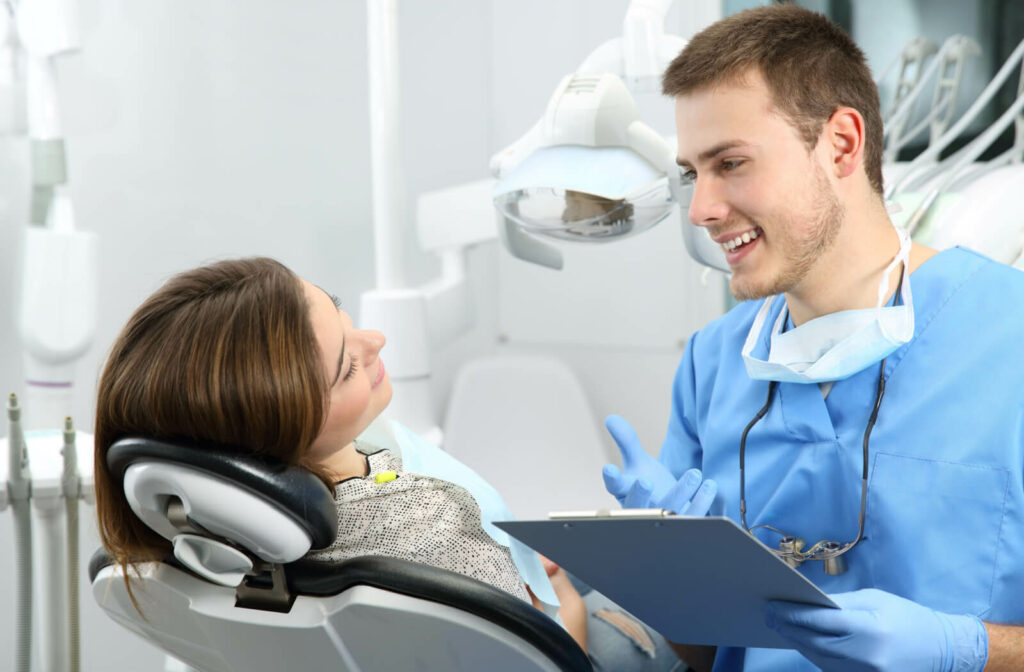 Should I Try SureSmile?
When you're trying to decide between clear aligners or traditional braces, consult your dentist. They'll be able to give you their professional recommendation and may be able to determine which is a better idea for your situation.
If you're considering SureSmile, come visit us. If you're looking for a way to fix crooked or gapped teeth, book an appointment with us at Elevate Dental. We'll help you determine how to treat your dental problems. We're here to help elevate your smile today!