Are you considering getting veneers but worried about the effects on your teeth's health? You're not alone. Many people wonder if veneers can impact tooth decay.
Veneers do not stop tooth decay. Veneers are a cosmetic or restorative procedure that simply affects the look of teeth. They help improve the appearance of your teeth, but they cannot cure tooth decay or other dental health problems.
Preventing dental problems is still essential, and maintaining a good oral hygiene routine is necessary to protect your teeth. Let's explore what veneers do and what their limitations are.
What Are Veneers & How Can They Help Me Protect My Teeth Against Decay?
Dental veneers are thin pieces of porcelain or composite that are custom made and placed over your teeth' front surface to improve their appearance. Veneers are usually made of porcelain, but can be made from composite resin, to match your natural teeth' colour, shape and size. They are custom-fitted to your teeth and bonded to your tooth's surface with a strong dental adhesive.
Veneers can last for many years if you properly care for them, making them a popular choice for those looking to enhance their smile.
Once the veneer is bonded to your tooth, the porcelain acts similarly to your natural enamel, helping to protect the tooth. Porcelain veneers are known to fully transform the look of a person's smile; they also resist stain and are durable. While these porcelain sheaths do cover the front surface of your tooth, it's important to know that cavities are still possible and it is important to maintain proper oral hygiene, good homecare, and routine dental check-up and cleanings.
Benefits of Dental Veneers
One of the most popular cosmetic dental procedures is dental veneers because of its many benefits:
Mask Imperfections: Veneers can cover up stained or discoloured teeth that cannot be improved with teeth whitening treatments. They can also hide small gaps between teeth or slightly crooked teeth. With porcelain veneers, the appearance of your teeth can be transformed into a beautiful, natural-looking smile in just a few appointments.
Strong and Durable: Porcelain veneers are very strong and durable. They are made of high-quality, sturdy materials that can last ten years or more if you properly care for them. Plus, porcelain veneers are resistant to discoloration and staining, ensuring your smile stays bright and white for years.
Easy Maintenance: Veneers are easy to care for, like natural teeth. You can brush and floss them regularly and see our dentist for routine check-ups and cleanings. You can enjoy a bright and beautiful smile for years with no maintenance than you would do for your natural teeth.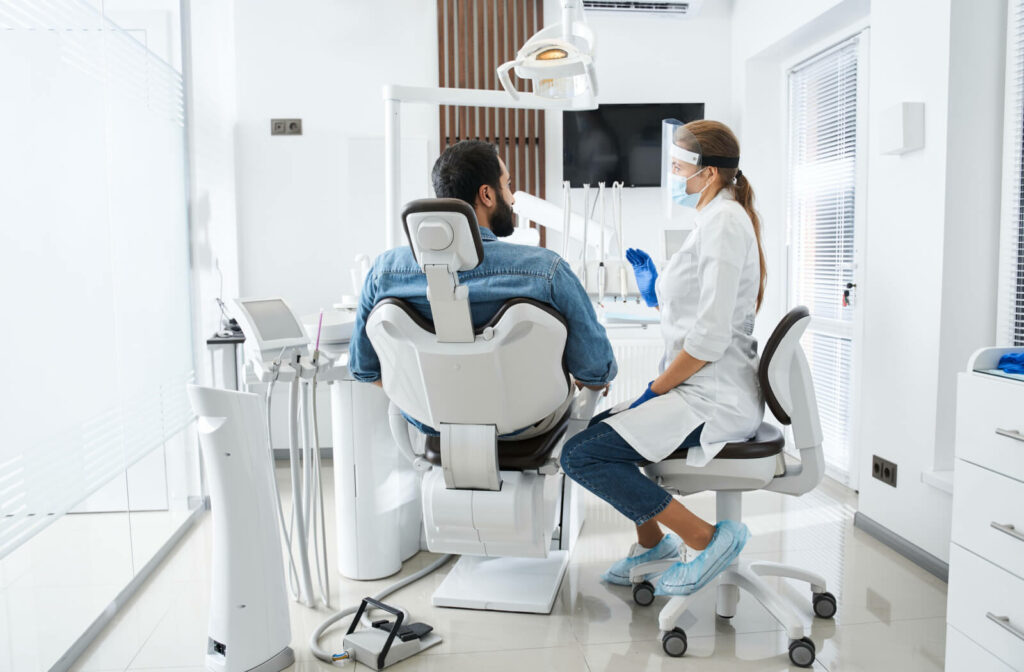 Are Veneers Right for You?
When considering whether veneers are right for you, a qualified dental professional can help determine whether they will fulfill your needs.
Veneers can be an excellent option to enhance your smile and protect your teeth against issues such as discoloration, chips or misalignment.
Although veneers are an investment and cannot stop tooth decay, the beautiful and beneficial results can last many years with proper care.
Transform Your Smile with Veneers from Elevate Dental
Veneers are a great solution to improve the look of your smile, but they won't stop tooth decay. The best way to keep oral health in check is to maintain regular check-ups and visit a dentist for diagnosis and treatment.
Elevate Dental's team of experienced dentists offers extensive services such as crowns, implants, bridges, and veneers. We understand that taking the time for a smile consultation can seem like one more thing added to your never ending list of "to do's," but it's an invaluable step in helping you smile out loud by achieving the smile you deserve.
Book an appointment with Elevate Dental today and elevate your smile tomorrow!